Stefania Milan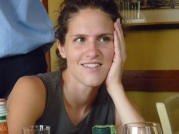 Dr.
European University Institute
Central European University
Department of Political Science
Nador Utca 9
Budapest - Hungary
Stefania Milan holds a PhD in Political and Social Sciences from the European University Institute (Italy). Currently she is visiting professor at the Department of Political Science, Central European University, Budapest (Hungary), where she teaches courses on digital technologies and society, political communication, and digital research methods. Her research interests include social movements, emancipatory communication practices, digital research methods, and and the interplay between technologies and society.
To know more, visit Stefania's website.


Country-team: Italy